A How-To Guide for Your Business' Next Video Project
This blog is the second in a three-part series meant to guide organizations interested in delving into the world of video production. Click here to read the first blog in this series!
We're sharing the ins and outs of our three-pronged approach to video production: Imagine, Create, and Appeal.
This blog will focus on the "create" step of the video production process, which includes these three tasks: 
Creating a list of keywords for your video

Defining the vision for your video

Preparing for the logistics of shooting your video
Create a List of Keywords
Creating a list of keywords for your video is important because these words will become the building blocks for your script. Ensure the words you select fit your brand well and accurately describe your product or service. 
Here's an example for a granola brand called Greta's Granola: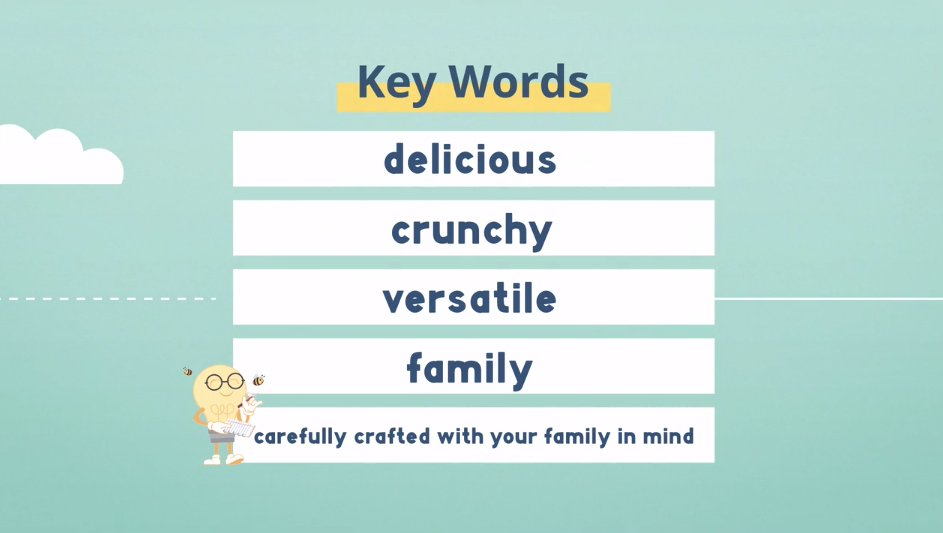 Keywords can also be key phrases, like the one you see on this list. 
When writing your keywords, consider what information your video needs to include and the problem you're trying to solve. For example, if you're hosting an event, be sure to include the date, time, and location. If you're a local business promoting an inventory sale, highlight the sale end date.
Remember, the more time you spend on this part of the process, the easier it will be to create your video script. Here's an example of a video script with keywords highlighted in blue: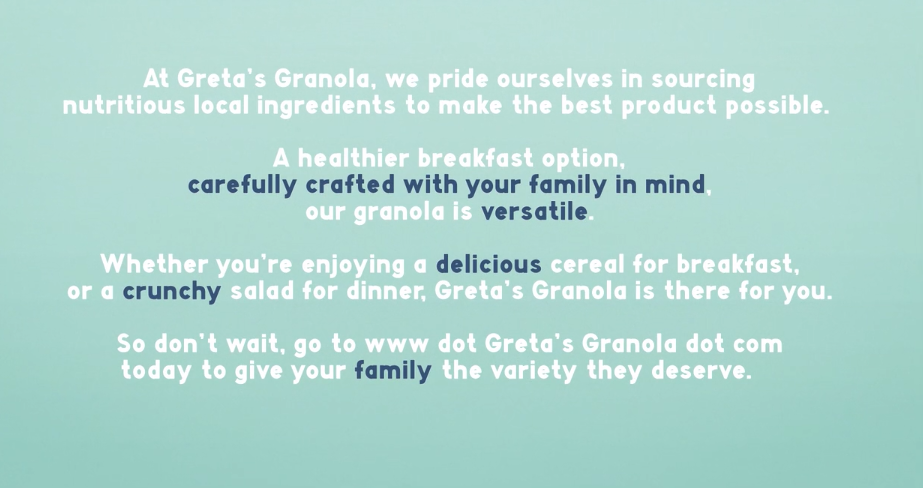 This script is for a roughly 30-second promotional video Greta wants to post on her social media accounts. We recommend keeping the video length under 60 seconds (usually 150 words or less) because the longer the script, the longer the video production will take. To find out how long your copywriting is, read it out loud at a slower pace.
Define the Vision of Your Video
To help define the vision for your video, we recommend collecting visual examples like photos and branding elements (brand colors, logo, fonts, etc).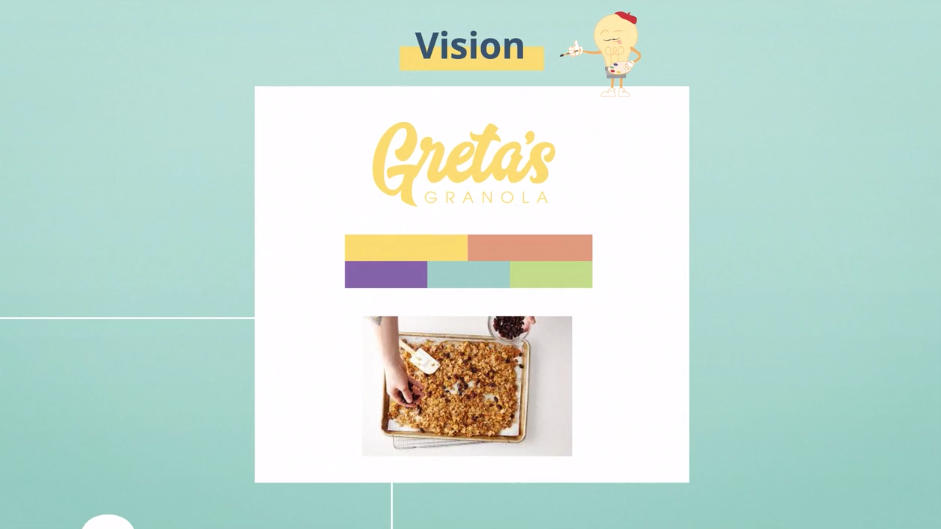 You'll want to collect several photos for this vision board. For example, we could add a picture of a happy family enjoying Greta's Granola at the breakfast table. These images aren't to copy but to help you create an overall vision for the video.
Plan the Logistics of the Video Shoot
If your video is short, you can generally film everything in a single day. Find a good day to film and coordinate with your talent to ensure it works for them. 
Most newer smartphones have good enough cameras to film short, simple videos to share on social media, but if you're creating a higher-quality video, make sure you have all the gear you need before shoot day.
Create a list of props, but keep that list as simple and short as possible. You'll also want to make sure you have permission to film wherever you plan to host the shoot.
When it comes to planning outfits for a video shoot, here's what we recommend you don't wear:
Tight patterns and geometric designs

Green (if using a greenscreen)

Branded clothing

Reflective items and noisy jewelry
In the next blog, we'll cover the final step in our three-step process: Appeal.